The revolutionary transportable forklift
Many More Deliveries Per Day
Our products help support the use of faster and smaller delivery vehicles; decreased delivery waiting times; more efficient delivery routes in urban areas, suburbs and rural locations, and a more expansive potential workforce of delivery drivers.
Completely Independent
InnoLIFTs eliminate the need for lifts gatess or other vehicle-mounted lifting equipment.
The driver can alone handle all deliveries up to 1000 kg (2,200 lbs) eliminating the need for a delivery assistant.
InnoLIFT can easily be moved from one delivery vehicle to another.
Take Care of Your Workers Safety and Health
No more heavy manual lifting.
No more back injuries or unnessessary sick leaves.
Satisfied workers are more dedicated to their work and are more productive.
Finnish innovation
A transportable forklift for vans and light commercial vehicles that climbs inside the vehicle with the cargo. Get the job done by one worker with fast results.
Lift, load and deliver with no need for changes to your vehicle, such as tail gates, lifting booms, or other mounted lifting equipment.
1. Load the cargo into the van.
2. Pull the support legs out and lift the chassis up.
3. Push the support legs back in.
4. Push the InnoLIFT and the cargo into the van.
New Self-propelled InnoLIFT
The new model is equipped with a drive motor and is therefore perfect for lifting heavy cargos of a smaller size.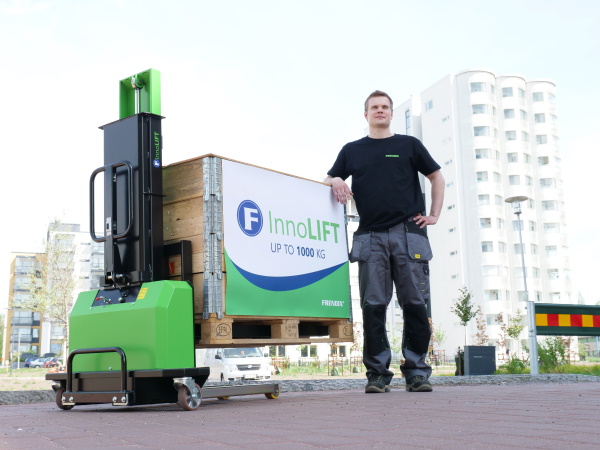 Heavy Duty – Up to 1000 kg of Lifting Capacity
Heavy Duty InnoLIFT models lift up to 1000 kg  and the models are a good fit for heavy lifting.