InnoLIFT – The Revolutionary Transportable Forklift
Many More Deliveries Per Day
Our products help support the use of faster and smaller delivery vehicles; decreased delivery waiting times; more efficient delivery routes in urban areas, suburbs and rural locations, and a more expansive potential workforce of delivery drivers.
Completely Independent
InnoLIFTs eliminate the need for lifts gatess or other vehicle-mounted lifting equipment.
The driver can alone handle all deliveries up to 1000 kg (2,200 lbs) eliminating the need for a delivery assistant.
InnoLIFT can easily be moved from one delivery vehicle to another.
Take Care of Your Workers Health
No more heavy manual lifting.
No more back injuries or unnessessary sick leaves.
Satisfied workers are more dedicated to their work and are more productive.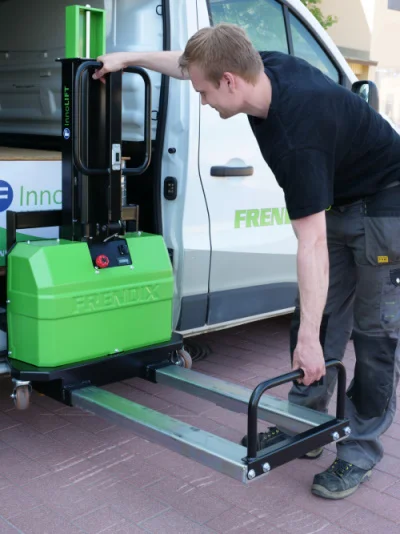 Finnish innovation
A transportable forklift for vans and light commercial vehicles that climbs inside the vehicle with the cargo. Get the job done by one worker with fast results.
Lift, load and deliver with no need for changes to your vehicle, such as tail gates, lifting booms, or other mounted lifting equipment.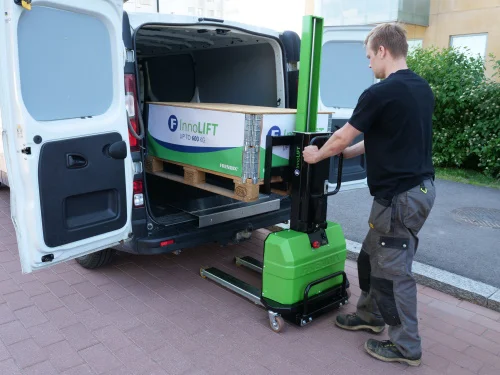 1. Load the cargo into the van.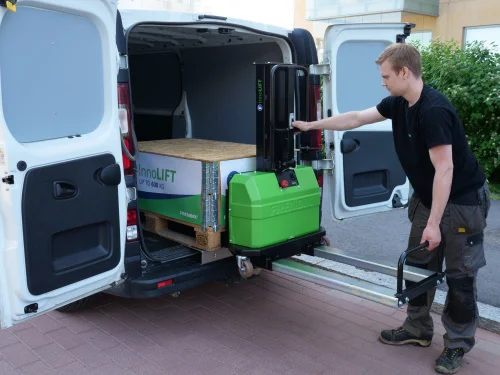 2. Pull the support legs out and lift the chassis up.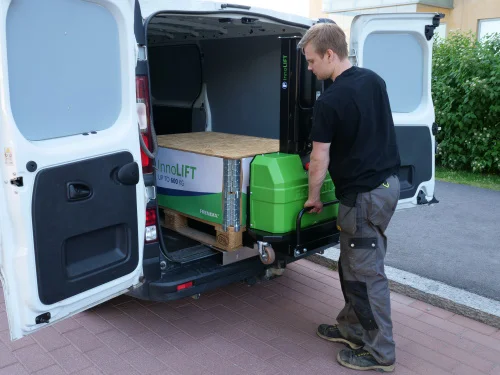 3. Push the support legs back in.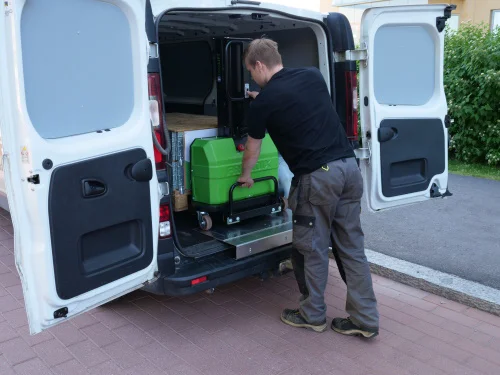 4. Push the InnoLIFT and the cargo into the van.
Self-propelled InnoLIFT
The new model is equipped with a drive motor and is therefore perfect for lifting heavy cargos of a smaller size.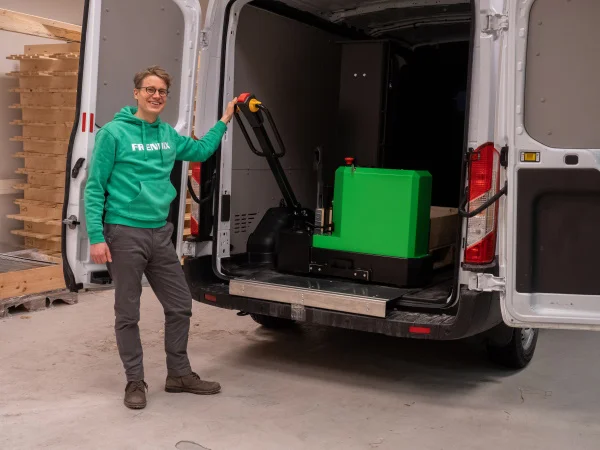 Up to 1000 kg of Lifting Capacity
Heavy Duty InnoLIFT models lift up to 1000 kg  and the models are a good fit for lifting heavy loads.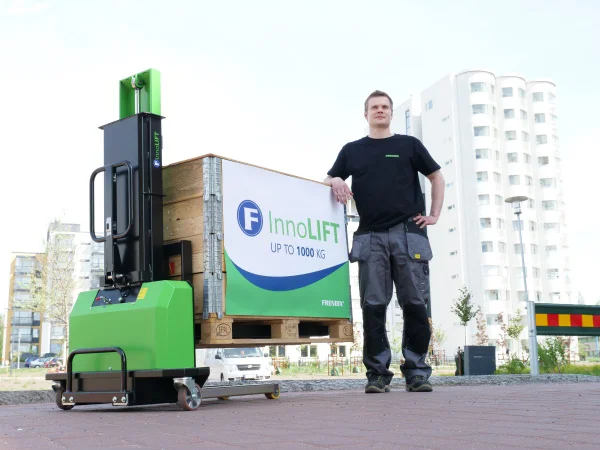 InnoLIFT Version 7
Handmade in Finland by Frendix, the creator of the self-loading system InnoLIFT
More than 20 years ago we introduced the first version of the original Finnish innovation. This long experience and the customer feedback from all over the world enable us to present the best InnoLIFT: the new InnoLIFT version 7.
With the new version 7 we improve the balance and stability to a new level.
Simply said: Making good things even better.
From welding to final assembly
All InnoLIFTs are manufactured in Finland. This is the basis for relatable machines and satisfied customers worldwide.
Wide range of models and accessories
InnoLIFT models are suited for various vans, trucks and trailers. Some models also offer solutions for special cases like extra small vans, or closed bottom pallets. Addition to different models we offer accessories such as rear plates for bridging steps and trailer hooks, cable system for charging while driving and optional batteries.